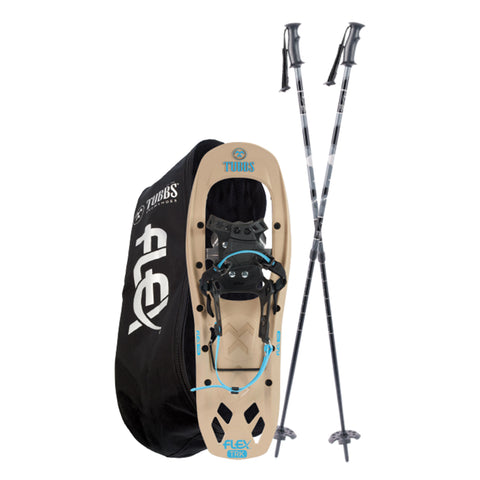 TUBBS FLEX TRK KIT SNOWSHOES - KIT 2024
Pickup currently unavailable
Save your money and get the snowshoe kit. Our Tubbs Flex Trk Kit comes with adjustable poles and a handy carrying bag.
Key Features
TORSION DECK / FLEX TAIL: Tubbs' advanced Torsion Deck allows torsional articulation throughout the body of the snowshoe, enhancing traction, preserving your natural gait, and improving comfort on uneven terrain. The patented FLEX Tail technology allows the snowshoe to roll more naturally from heel to toe. The FLEX Tail absorbs shock from the heel strike, reducing the amount of stress on joints.
QUICK-FIT BINDING: Quick-Fit Binding features a perfect blend of comfort and control with an easy and intuitive entry and exit.
ROTATING TOE CORD W/ ROTATION LIMITER ARTICULATION SYSTEM: The Rotating Toe Cord design enables the tail of the snowshoe to drop, shedding snow and reducing cardio-respiratory strain by 7%, while a Rotation Limiter prevents over-rotation.
TUBBS TOE CRAMPON: Tubbs Toe crampon, located under the ball of the foot, provides constant contact in variable snow conditions, while its jagged tooth construction improves grip on packed snow and ice.
TRACTION RAILS: Traction Rails ensure superior sidehill grip in hard-packed and icy conditions. The curved shape helps prevent fore-aft slippage on steeper terrain.
ACTIVELIFT 16° HEEL LIFT: Designed to make steep ascents easier, the ActiveLift heel lift reduces calf fatigue and Achilles tendon strain. It can be easily pulled up and down. The 19° Backcountry heel lift is ideal for extreme ascents, while the 16° Day Hiking version is designed for moderate terrain.
UPC Code - 886745991731, 886745991724