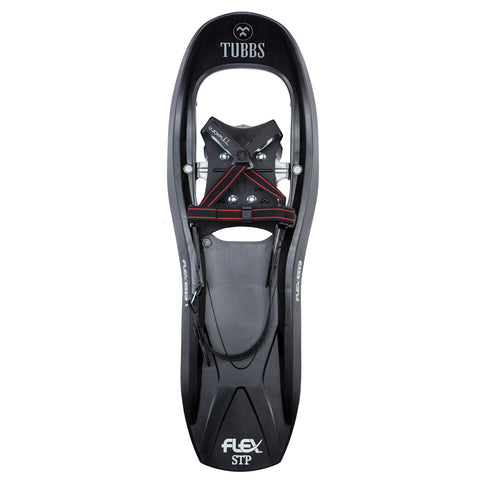 TUBBS FLEX STP SNOWSHOES 2024
Pickup currently unavailable
Whether you're a beginning snowshoer or looking for a fun day out on the trail, the Tubbs Flex Stp Snowshoes offer a supportive and comfortable experience. It features the Torsion Deck, which enhances traction, preserves gait, and improves comfort when walking on uneven terrain. Thanks to Tubbs' Control Wings, you can keep your heels aligned and the Flex STP's QuickPull binding is easy to use and holds securely. As far as entry-level snowshoes go, the Flex STP is a great choice for aspiring snowshoe enthusiasts.
Key Features
Torsion Deck / Flex Tail- The Torsion Deck of Tubbs snowshoes allows torsional articulation throughout the body, adding traction, preserving your gait, and improving comfort. From heel to toe, the snowshoe rolls naturally thanks to FLEX Tail technology. By absorbing shock from heel strikes, FLEX Tail reduces joint stress.
Quickpull Binding - QuickPull bindings feature an intuitive forefoot strap that cinches easily and unlocks with a push of the buckle. With the pivoting toe stop, you can adjust your shoe quickly, and Control Wings keeps your heel in place.
Rotating Toe Cord W/ Rotation Limiter Articulation System - The Rotating Toe Cord design enables the tail of the snowshoe to drop, shedding snow and reducing cardio-respiratory strain by 7%, while a Rotation Limiter prevents over-rotation.
Tubbs Toe Crampon - Tubbs Toe crampon, located under the ball of the foot, provides constant contact in variable snow conditions, while its jagged tooth construction improves grip on packed snow and ice.
Traction Rails - Traction Rails ensure superior sidehill grip in hard-packed and icy conditions. The curved shape helps prevent fore-aft slippage on steeper terrain.
UPC Code - 886745697169, 886745698302, 886745838333